The Venerable Tenzin Yignyen will create a Tibetan Sand Mandala from November 1 – November 4 in the Brant Gallery. He will be leading daily meditations at 9 AM. There will be a dismantling ceremony, where the sand Mandala is swept away and taken to the Fens. All are welcome to visit Tenzin Yignyen in the gallery and join us in any of the events listed below.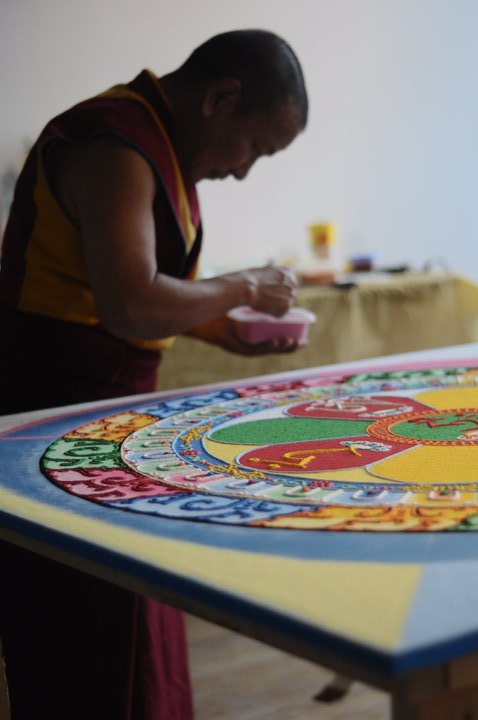 Event Dates:
Tuesday- Friday, November 1- 4
First Day:
Tuesday, November 1
9:00 AM setting of altar begins
9:45 AM Tenzin draws outline of the Mandala and applies sand
Tea with Tenzin:
Wednesday, November 2, 2:00 – 3:30PM
Dismantling Day:
Friday, November 4
9:00 – 9:30AM daily morning meditation
9:30AM – 12:00PM Mandala completion
12:00 – 1:00PM dismantling ceremony and followed by return of sand to a nearby body of water.
Work Schedule:
9:00 AM – 9:30AM daily morning meditation
9:30 AM Mandala construction
12:30 PM – 1:30 PM lunch break
1:30 PM – 4:00 PM continue work
All are welcome to meditate and to watch the Mandala construction, and to join Tenzin in any of the events.