Foraging Olmsted: Artward Bound's Field Guide to the Fens
Friday, April 27 (Rain date, May 4), 4:00- 6:00 pm at Evans Way Park (map)
[This workshop is free and open to the public]
Schedule:
4:00 Attendees to the workshop gather in Evans Way. Intro to how the Foraging Olmsted Workshop will work and about the Field Guide project. Artward Bound students explain what each artmaking station is about.
4:15 – Urban Foraging walk 1 departs Evans Way and people have the option to stay and do artmaking stations.
5:00 – Urban Foraging walk 1 returns to Evan's Way and participants stay to do artmaking stations or leave.
5:05 – Urban Foraging walk 2 departs Evans Way.
5:50 – Urban Foraging walk 2 returns to Evans Way
6:00 – Event is over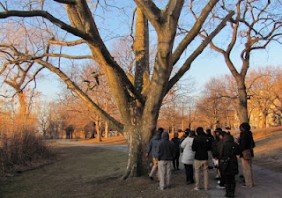 Artward Bound student-artists will create a Field Guide to the Fens featuring illustrations and text that educates visitors about the flora and fauna that exists there. The youth will co-lead a workshop that further connects people with the natural resources of the Fens. The workshop will engage participants in hands-on urban foraging excursion.  View the process.
Artward Bound Group: Chane, Shyimel, Cora, Kassandra, Rachard, Paola, Cyndie, Mureille, Jameel, Yffka, Ja'Hari, Elijah, Angellize, Ryan, Ciara, Andy, Isaiah, Antoine, led by Carolyn Lewenberg in collaboration with Jonathan Santos.
Bio: Carolyn Lewenberg likes to create art in collaboration with urban youth that serves to interpret natural and cultural resources. Her work includes coordinating the Bumpkin Island Art Encampment, creating large-scale site responsive sculpture using invasive plants, and working as a Teaching Artist in Boston Public Schools. In January, Carolyn joined the Artward Bound program as the Assistant Director of Curriculum and Instruction. She is a graduate of the University of Massachusetts Amherst with an undergraduate degree in Landscape Architecture, and will receive her Masters of Art in Teaching from MassArt in 2012.