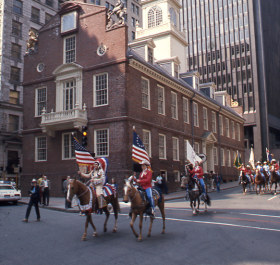 Studio Foundation
Visual Language/TIME Labs, Cage, Printing Lounge, and the Form Study Lab will be
closed on Patriots' Day, 
Monday, April 15th.
Equipment checked out from the Cage
 on Friday, April 12th will not have to be returned until Tuesday, April 16th at 10:00 a.m. You may ask for a small time extension, however, all gear checked out over the weekend will have to be returned no later that 1:00 p.m. on Tuesday.
You are encouraged to make a reservation
 by visiting the SF Cage or calling the SF Cage Hotline at 617.879.7021 in order to assure the gear you need for your TIME or Visual Language assignment is available for use during the long weekend.
If you need access to computer workstations
 over the weekend, the 3rd floor Tower Computer Arts computer labs will be open, contact them at 617.879.7300 for details. 
Tech Central
will be also be closed on Monday. Photo credit: 
Patriot's Day, Old State House by Peter H. Dreyer
;  Peter H. Dreyer slide collection, Collection #9800.007, City of Boston Archives, Boston.