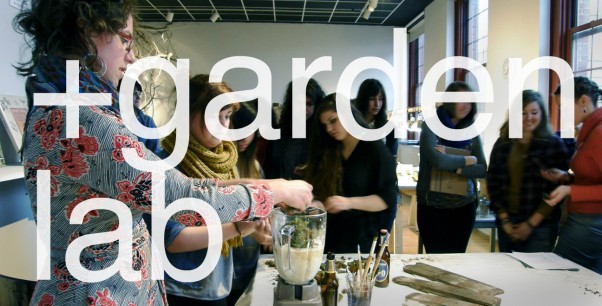 The Garden Lab explores new ideas and innovations in art and design surrounding food, community and the environment, through workshops, visiting artists and lectures and events. The project examines these topics and concerns in experimental and investigative ways, while proposes creative and sustainable solutions and possibilities.
 To view past workshop images click here

++++++++++++++++++++++++++++++++++++++++++++++++++++++++
thank you for participating
To join MassArt's Garden Collective click below:
+++++++++++++++++++++++++++++++++++++++++++++++++++++++++++++
Schedule: Workshops and Events
Spirulina and Science Fiction: Workshops with Caitlin Berrigan Wednesday, February 22, 1:30 – 3pm Wednesday, March 21, 1:30 – 3pm Workshops will be open for student & faculty contributions to the project, including drawing & research proposals; designing & building the spirulina tank; harvesting & eating the spirulina.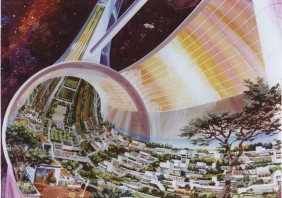 Project Description: For the Garden Lab Residency at Brant Gallery, Caitlin Berrigan will conduct a spirulina research lab and space for interplanetary imagination. Spirulina is one of the primary nutrient sources that has been explored for survival in space and harsh environments. With the help of students, Berrigan will design & build a custom tank to grow spirulina and try out recipes. Through research, drawing and collage, new and existing gardens proposals for space and harsh environments will be explored as part of a deeper investigation lasting engagement with structural food politics and moving beyond the psychology of apocalypse. Image credit: NASA Ames Research Center

Bio: Caitlin Berrigan is an artist who works in sculpture, video, and participatory actions to open a space of potential for confronting uncertainties within the context of social issues. She was an Agnes Gund fellow at Skowhegan and artist in residence at PROGRAM in Berlin. She holds a Master's in visual art from MIT (2009) and a B.A. in art history and production from Hampshire College (2004). Her work has shown at the Whitney Museum, Storefront for Art & Architecture, Hammer Museum, Gallery 400 Chicago, LACMA, Lugar a Dudas Bogotà, and 0047 Gallery Oslo, and the 2010 Vancouver Olympics. Berrigan currently has a studio in Boston and is working on a public commission from the deCordova Museum that will open at the Cyclorama in February. http://membrana.us  
Conversation In Memorial: Workshops with Andi Sutton Workshop 1: Wednesday, February 8, 3:00 – 4:30 pm Mass Art students and community members are invited to join Sutton in a participatory dialogue about the future vis a vis climate change.  They will share visions and create handmade tree tags that memorialize possible future social, political, or ecological losses: those hoped for, those feared, and those mourned. Workshop 2: Tuesday, April 17, 6:30 – 8:00 pm [new schedule] In a hands-on design/build workshop, Mass Art students and community members will learn how to make seed bearing lawn ornament sculptures. Using seed bomb clay, paper, and other materials, participants will be invited to sculpt, modify, and transform pink flamingo lawn ornaments to bring them to their maximum seed-bearing efficiency.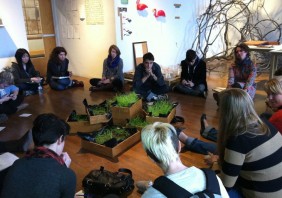 Project Description: At Garden Lab, Andi Sutton will develop two garden-based pieces that visualize the future social and botanical ecologies that could emerge as a result of climate change. In one, Sutton will create a sculptural trellis and memorial garden using the invasive vine Oriental Bittersweet.  Activated and transformed by a series of dialogues and contributions from the Mass Art community throughout the semester, the piece will document to the emotional landscape of fear, hope, and loss that accompanies the narrative of climate and the future.   In the other, she will test and build prototypes of seed bearing lawn ornaments made from biodegradable material such as seed embedded paper and seed-bomb clay.  These sculptures will be surreptitious planting mechanisms for biodiverse garden environments that house northward migrating species from the south that are displaced by warming temperatures and habitat loss. Interactive and sculptural, both works will examine the "culture" of/in horticulture and the community building and transformative potential of gardens as sites for reflection about and concrete action in response to species and habitat loss caused by global warming and human consumption.

Bio: Andi Sutton is an artist whose practice explores the ways that performance art methodology can create new models for community development and social engagement.  Working in a solo and collective context, her projects incorporate food, agriculture, television and street intervention, video, performance, and installation. Her works have been shown internationally at the Los Angeles County Museum of Art (LACMA) (Los Angeles, CA), the Yerba Buena Center for the Arts (San Francisco, CA), the Yogyajarta New Media Art Laboratory (Yogyajarta, Indonesia), the SMART Museum (Chicago, IL), Universidad Nacional (Bogota, Colombia), and the Mills Gallery (Boston, MA), among others.  An avid collaborator, she is a member of The National Bitter Melon Council (www.bittermelon.org) and Platform2: Art and Social Engagement (www.platform2.info).  She  the winner of an MFA Traveling Scholars Award (2010) and, along with The National Bitter Melon Council, the Artadia Art Award (2007). http://www.andisutton.net  
Photodotes II: Workshop with Zenovia Toloudi Wednesday, March 14, 1:30 – 3pm The workshop explores testing and design, possibilities and functions of the Photodotes II, crossing art, design, science and nature. Hands-on experimentation towards the making of a hybrid structure consisting of plants, fiberoptics, and light through the method of hydroponics. This workshop will be followed by a design charrette on the intersection of art, light, nature, and architecture.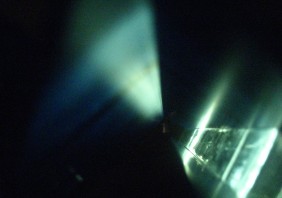 Project Description: For the Garden Lab Residency at Brant Gallery, Zenovia Toludi will conduct a 'machinic' installation, PHOTODOTES, that explores the manipulation of natural and artificial light in space, architectured to perform in 3 stages: collecting, transferring and emitting light. The experimentation discusses phenomena related to lack of light, like the lack of vitamin D, depression, women's cycle patterns irregularities, and work separation from exterior conditions. By augmenting the individual and collective perceptual mechanism, PHOTODOTES emphasizes how light's relation to energy and the survival leads to well-being of people. Project Blog: http://zitofos.blogspot.com/

Bio: Zenovia Toloudi is an architect, artist, and curator, and currently a Research Affiliate at MIT Art, Culture and Technology. Examples of Zenovia's work can be seen in Thessaloniki, where she designed and constructed The Cage pavilion, now part of AUTh's sculptural museum permanent collection; and in Chicago, where she worked on The Wit, a hotel skyscraper as part of architecture firm KOO. Her sensorial urban interventions have been exhibited internationally at Venice Biennale, The Lab at Harvard, Athens Byzantine Museum, among other places. Zenovia has curated exhibitions at Harvard GSD, Boston Museum of Science and in Seoul; founded and organized Brain.Storms; co-organized Critical Digital Conferences and lectures for Art, Design and The Public Domain program at Harvard GSD; moderated panel discussions in collaboration with Ecological Urbanism, Harvard Kennedy School, Sun Publishers and MIT. She is a contributing editor at SHIFTBoston blog. Zenovia received her doctorate from Harvard GSD and architectural degrees from IIT, and AUTh. http://zenovia.net
 ++++++++++++++++++++++++++
  Wheatgrass Propagation and Juicing 101 with Ben Silva Wednesday, February 15, 1:30 – 3pm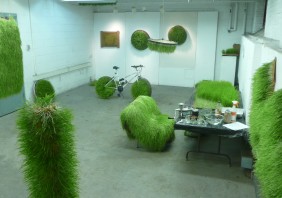 The how, why, and what the of wheatgrass.  It has been claimed that a shot of wheat grass juice has the nutritional value of eating a pound of greens.  Wheatgrass is an easy, inexpensive, and highly nutritive food source to grow anywhere.  Come learn how to grow, harvest, and juice America's favorite grass.  Surprisingly sweet and Gluten Free…  Wheatgrass shots for all!

Bio: Ben Silva is a second year graduate student at MassArt working in sculpture.  Self proclaimed "non-specialist, and proud of it" Ben's works attempt to break down the separation of the artist's work and life, and more closely the artists spiritual and material reality; a social art practice based on the tenets of holism.  His DIY projects vary from rooftop gardening,  medicinal plant foraging, urban shamanism, hydroponic food machines, sprouting and live foods, kitchen gardening, food not lawns; all of which he refers to as urban homesteading.  Also an accomplished object maker, his work can be seen throughout New England, including the Boston convention center.  He is currently working to make the perfect pancake.  
Abattoir Rising: The Missing Link Between Pasture and Plate. Work in Progress Screening. Q & A to follow with Audrey Kali and David Tames, Co-Directors Tuesday, April 3, 6:30 – 8pm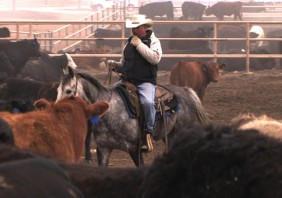 Abattoir Rising is a documentary film currently in production. The film provides viewers with an honest look at the people, processes, and issues surrounding humane slaughter and local meat farming, allowing then arriving at their own conclusions about the people who humanely raise animals for meat and the process of bringing meat to the market. Image: JBS Five Rivers Kuner Feedlot, Kersey, Colorado. The Story: Local farmers raise happy animals on pasture. Who thought a humane death would be so difficult? The demand for local meat has risen in recent years due to increasing consumer awareness about the inhumane treatment of farmed animals. In contrast, there are not enough slaughterhouses qualified and able to provide humane slaughter to accommodate the demand for local meat. The film examines these issues through the stories of Eric Shelley and Staci McCune. Shelley teaches humane meat processing at SUNY Cobleskill, lives on a farm with his wife and two young boys, and runs an on-farm slaughter business. McCune, recently out of high school and among Shelley's students, dreams of starting her own butcher shop consistent with her beliefs. Ultimately, the film shows how the livelihoods and consciences of two people (and local farming communities overall) are on the line because consumers don't want to look at the missing link between pasture and plate. Interviews with experts including animal behavior expert Temple Grandin and philosopher Bernard Rollin substantiate the gravity of Shelley and McCune's story. http://AbattoirRising.com

Bio: Audrey Kali, Co-Director. Audrey has worked in the creative arts for twenty years and is currently an Associate Professor of Communications at Framingham State University. She has published articles on visual studies in academic journals. Her creative works include photography exhibits and The Plastic Arsenal, a documentary about war toys. She received a grant from the Culture and Animals Foundation for Partitions, a short documentary about humane farming, and has presented her study about visual strategies employed in animal welfare campaigns at Michigan State University. Being a reviewer for the Journal for Critical Animal Studies informs her work on the cultural impacts of farm animal slaughter. Audrey earned a Ph.D. in Rhetoric and Communication from the University of Pittsburgh.

Bio: David Tamés, Co-Director. David is the Media Arts Studio Manager in the Studio Foundation Department at Massachusetts College of Art and Design and teaches documentary courses through Professional and Continuing Education. He has worked on a wide range of independent film and new media projects as producer, director, cinematographer, editor, and media technology consultant. David recently completed Documenting Bumpkin (2011), a short documentary providing glimpses of the 2010 Bumpkin Island Art Encampment.  He directed the award-winning short documentary Smile Boston Project (2007), co-produced and co-directed Remembering John Marshall (2006), and is currently completing post-production on The David Hamilton Smith Story (2012). David earned an M.S. in Media Arts & Sciences from MIT and recently completed an MFA at MassArt.  
Papermaking Workshop with Zoe Culbertson Wednesday, April 4, 1:30 – 3pm [New Location] The new location will be in Collins room 310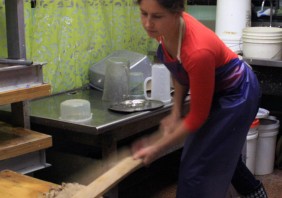 Participants will be introduced to making paper from a wide variety of plants, from common garden plants such as Iris, Hosta or Lillies to edible plants and vegetables such as corn, onions, asparagus, to inner bark fibers including paper mulberry (kozo) and gampi. Learn to make some beautiful natural papers and how to make more plant papers from the environment around you. In addition to providing a background on the basics of papermaking, this workshop will also show some fiber preparation and provide a chance to get your hands wet and experiment.
Bio: Zoe Culbertson has been making paper for over ten years and specializes in Japanese paper arts and plant fiber papers. She lived in Japan for 6 years and worked with master papermaker and artist Richard Flavin. Her work includes traditional Japanese papers, plant fiber papers, artist books and alternative photographic processes. She is a founding member of the Boston Paper Collective and has taught workshops and exhibited her work in the Boston area, Australia and Japan.  
Food Lab with Laura Ziman Wednesday, April 11, 1:30 – 3pm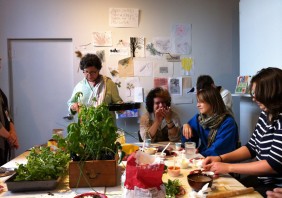 In this workshop participants will be making explorations with edible items, making and creating food using limited resources and seeing how we can expand our view of what we eat using available, inexpensive and healthy items. The items we will be using will be colorful and by mashing, mixing, rolling and cooking, lovely food will result. After a brief talk and demo, participants will be involved with every aspect of the food making.
Bio: Laura Ziman grew up in NYC, went to SUNY, Purchase and graduated with degree in Culture & Society, thesis title: Development of French Haute Cuisine, 1553-1900. Laura attended cooking school in Paris, La Varenne.  She has worked for various chefs and opened her own restaurant, The Unlimited Feast in Albany, N.Y. Laura returned to NYC and was executive chef for a multinational corporation, did food styling for TV, taste testing and catering. Laura moved to Massachusetts 11 years ago, were she pursued her Master's Degree in Education from Lesley University.  She currently teaches studio art to children and lectures on food-related objects at the Museum of Fine Arts, Boston. Laura also teaches art at Cambridge College and gives cooking classes at Keefe Tech.  
Foraging Olmsted: Artward Bound's Field Guide to the Fens Friday, April 27 (Rain date, May 4), 4:00 pm at Evans Way Park (map)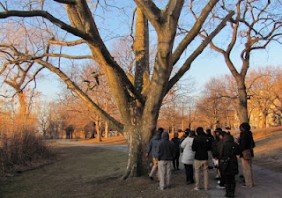 Artward Bound student-artists will create a Field Guide to the Fens featuring illustrations and text that educates visitors about the flora and fauna that exists there. The youth will co-lead a workshop that further connects people with the natural resources of the Fens. The workshop will engage participants in hands-on urban foraging excursion.
Artward Bound Group: Chane, Shyimel, Cora, Kassandra, Rachard, Paola, Cyndie, Mureille, Jameel, Yffka, Ja'Hari, Elijah, Angellize, Ryan, Ciara, Andy, Isaiah, Antoine, led by Carolyn Lewenberg in collaboration with Jonathan Santos. Bio: Carolyn Lewenberg likes to create art in collaboration with urban youth that serves to interpret natural and cultural resources. Her work includes coordinating the Bumpkin Island Art Encampment, creating large-scale site responsive sculpture using invasive plants, and working as a Teaching Artist in Boston Public Schools. In January, Carolyn joined the Artward Bound program as the Assistant Director of Curriculum and Instruction. She is a graduate of the University of Massachusetts Amherst with an undergraduate degree in Landscape Architecture, and will receive her Masters of Art in Teaching from MassArt in 2012. Join the participants and contributors in conversation… and reception: Thursday, April 26, 6:30 – 8pm [new schedule]

More events and activities TBA… To view past workshop images click here